GUESS Partners with Social Enterprise Homeboy Industries for In-Store Recycling Project
About the Program
A recycling solution for our customers
Bring back 5+ items of unwanted clothing from your wardrobe
Receive 15% off. See offer .
Your items will be sent to Homeboy Recycling for upcycling, refurbishing, and recycling
About the Partnership
A textile recycling solution that gives back to the community
Creating jobs and training opportunities
Supports previously incarcerated individuals committed to redirecting their life
Tackling fashion waste with local, transparent services
GUESS is a proud partner with Homeboy Industries. Learn more about how they gave back to our community during the pandemic with the GUESS Community Advocacy Series.
Rooted in our heritage but fueled by a new energy.
We're creating iconic GUESS fashion with a focus on sustainability - made by a family of empowered people, with minimal waste.
Upholding the same GUESS DNA: this is our world.
But we are dreaming bigger: this is our future.
The values of VISION GUESS support our brand's evolution, our people's livelihoods, and a focused concern towards making a positive impact in and beyond the communities and environments we operate in. Read more about VISION GUESS values below.
GUESS Eco products are made with environmentally conscious materials and manufacturing processes. Over 20% of our denim is GUESS Eco, and we are rapidly increasing within the next few years so that most of our denim will follow the GUESS Eco guidelines.
GUESS Eco denim contains at least 20% environmentally preferred materials and uses production methods with reduced environmental impact.
GUESS Eco non-denim products contain 20% -100% environmentally preferred materials that are recycled, organic and innovative.
Recycled
Polyester, Nylon, Cotton
Reduces waste
Conserves natural resources
Helps reduce greenhouse gas (GHG) emissions
Certification required: Recycled Claim Standard (RCS) or Global Recycled Standard (GRS)
Partners: REPREVE®
Did you know?
Most recycled polyester is spun from remnants of recycled plastic bottles.
Organic
Cotton, Linen
Minimalizes use of pesticides and other chemicals at the farm level
Promotes healthy soils and biodiversity
Safer for workers and communities
Certification required: Organic Content Standard (OCS) or Global Organic Textile Standard (GOTS)
Did you know?
The majority of organic cotton (70-80%) is rainfed rather than irrigated.
Innovative
Lyocell, Modal, Viscose
Comes from sustainably managed forests
Protects ecosystems
Reduces greenhouse gas (GHG) emissions
Certification required: Traceability system as established by GUESS Eco materials partner
Partners: TENCEL™ Lyocell and Modal, TENCEL™ REFIBRA™, LENZING™ ECOVERO™, Livaeco™ by Birla Cellulose
Did you know?
TENCEL™ Lyocell with REFIBRA™ technology uses post-industrial scraps, reducing reliance on trees and contributing to circular fashion.
TENCEL, REFIBRA, LENZING and ECOVERO are registered trademarks of Lenzing AG.
Shop the Collection
Greening Our Operations
At GUESS, we are working to improve our impact on the environment as we continue to build a culture of care throughout the business. As of 2021, we've recognized the following green-minded improvements:
18% reduction in GHG emissions from our direct operations on a per-square-foot basis
Over 50+ stores in North America and Europe have been retrofitted or opened with LED lighting systems
All packaging transitioning to be recyclable or made of recycled materials
At our global headquarters in Los Angeles, we offer complimentary electric vehicle charging stations for associates, Rideshare incentives, and continue to implement our full-scale recycling program
Our World, Our Brand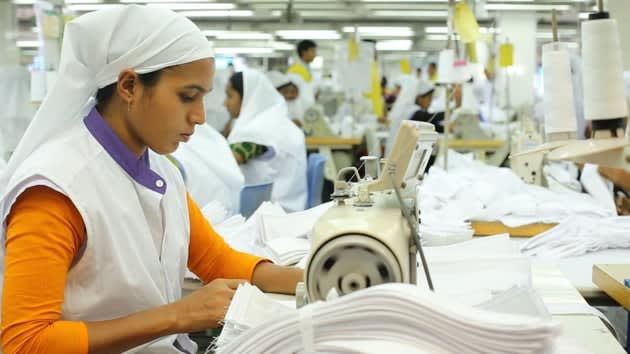 Corporate Social Responsibility
We believe that a collaborative approach to addressing systemic social challenges within the industry will produce more sustainable solutions. Working with supplier partners to ensure international standards for human and labor rights are upheld, GUESS coordinates oversight and remediation efforts, and has developed supplier training and a program for worker empowerment.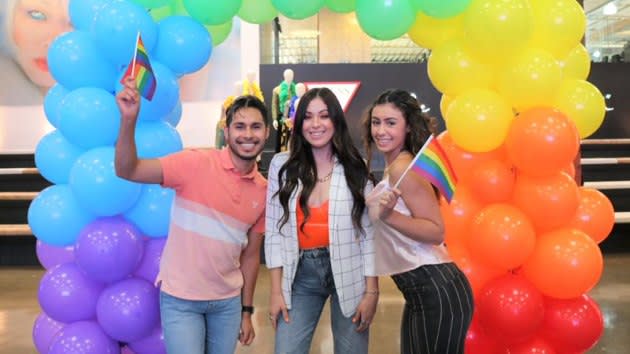 Diversity and Inclusion Council
Our aim is for all GUESS associates to feel comfortable and safe bringing their authentic selves to work and contributing fully to our shared success. To exemplify this belief as a priority, we've added diversity and inclusion to annual performance review, with plans to redevelop our Diversity and Inclusion Council in Europe in 2022 (expanding on the previously formed council in America), and continue to engage all associates in the celebration of our diverse organization.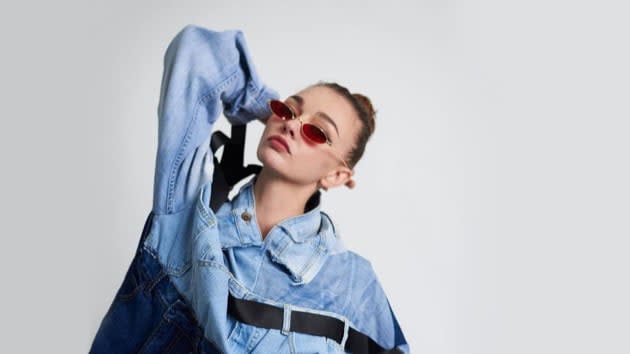 Committed to the Future of Eco-Fashion
GUESS and the Fashion Institute of Design and Merchandising (FIDM) havea multi-year partnership aimed at increasing awareness and involvement in sustainable fashion. GUESS has sponsored 8 courses at FIDM, covering topics such as zero waste pattern making, innovative materials, responsible denim production, lifecycle assessment, and circular fashion.
As more sustainable fabrics and processing technologies emerge, we evaluate them for potential use by our suppliers. We also assess emerging approaches to make sure the fibers or fabrics they produce align with the well-known GUESS brand and our customers' high expectations for fit and fashion. In general, we are selective about the sustainable product initiatives we pursue so that we can embrace each one fully, apply it correctly, and include many partners to achieve the best result in our finished products.
Supporting Our Communities
The pandemic brought our hearts closer together while global precaution measures kept us safely apart. GUESS and GUESS Foundation partnered with organizations to donate funds, clothing, and personal protective equipment as well as inspire the public to take meaningful action during the COVID-19 crisis. As we look ahead to a post-pandemic world, we anticipate leveraging GUESS Cares to provide additional volunteering support that helps communities and economies recover and rebuild.
Additionally, GUESS has pledged a 5-year donation total of $1 Million to local and national Black Community Groups including the NAACP, The Umoja Center, and The World Stage. We produced a video for The World Stage to highlight its history and unique story as a racially inclusive LA jazz club which can be found on our YouTube channel in the Community Advocacy series.
Download the full report here.